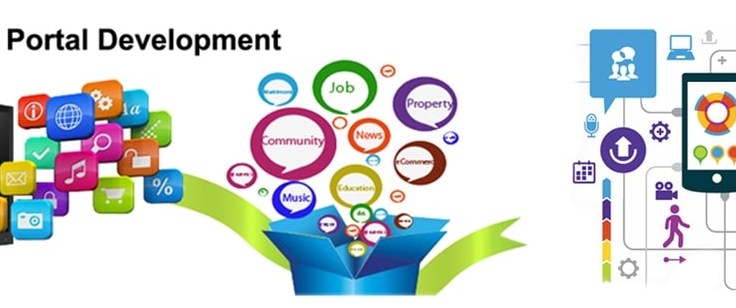 Siddhrans Technologies is a Web Portal Development company located in Bangalore, India specializes in developing B2B & B2C Portals, fully tailored e- business pivots by providing services, and driving the business growth and ensures a rapid and healthy ROI (Return on Investment). Our web portal developers having more than 7+ Years of experience in developing the portals. At Siddhrans Technologies Technologies as Web Portal development company in India understands the importance of the business of an individual and hence we at Web portal development in India enthusiastically to meet the expected goal.Siddhrans Products
For The Right Website Development Advice on Timeline and on Budget, Please Contact here Email : info@siddhrans.in Mobile ✆ : (91) 9902406387
Web Portal Development:
Web Portal development means developing an entire bulk website having features like – audio, video, mail, chat, messages, pictures, info pages and more. During Internet Era all the features such as audio, video, mail, chat, etc are offered by browser only but with booming IT Technology aspect business entrepreneurs prefer web portal development instead of normal website design and development with web application.
Web Portal Development in India:
Developing the web portals with Web Portal Development in India will benefit with so many ways. The web portal developments in India having highly expertize professionals in developing the web portals. A Siddhrans Technologies technology with all the qualities stands ahead in web portal development. The web portal developed by us always offers all the required benefits to the client. Further, the audience approaching the portal finds it easy, effective and friendly
Web Portal Development Company In India:
At Web Portal Development Company in India combines cross industry experience with cutting edge technologies and Innovative web enabled services with responsive web design technologies, to provide you with highly scalable portal solutions, for your needs. Siddhrans Technologies as leading Web portal development company in India mainly focuses on Client satisfaction and technology which client prefers.
Web Portal Development Company in Bangalore:
Migrate your business to the World Wide Web and Siddhrans Technologies as Web portal Development company in Bangalore will create high-impact B2B & B2C web portals which will act as your online trading arm. No matter what your business model is (B2B or B2C), our competent, flexible and commerce-enabled portals integrate information, applications and business processes to help address target audiences; build business on a global scale and enhance relationships with trading partners, suppliers and customers. With Web Portal Development to empower enterprises, you can reduce cycle time, get more results from limited resources, quickly adapt to fast-evolving markets and explore limitless expansion possibilities.
Web Portal Development Companies in Bangalore:
One of the leading web portal development companies in Bangalore we offer all web portal services with high quality along with Responsive Web Design. With years of experience under our belt and super dedicated and talented pool of professionals on our team, we develop scalable applications in a shorter time span. We keep up with the latest trends in the market and our team is well equipped and has got hands on experience on the latest technologies and tools. Our portfolio includes fully functional and highly interactive applications that have become an asset to our clients and have helped their business scale new heights.